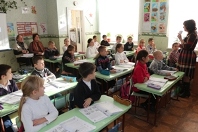 During November-December 2015, the team of experts and trainers of the Centre has been involved in an intensive monitoring activity of the teaching-learning-assessment process, based on curriculum for second grade, and of the intermediate results achieved by students and teachers. Thus, were visited 12 institutions of primary education in Chisinau, Balti, Firladeni Causeni, Comrat, Ciadîr-Lunga and Nihoreni Riscani.
The Ministry of Education has been directly involved in these actions, together with the project team, represented by Ms Alla Nikitcenko, senior consultant, focusing in particular on schools of minorities, accountable at official level teachers, students, managers and parents in the need for learning and practicing a behavior tolerant and positive attitudes and open to the identity and culture of the neighbor who speaks another language, has another social identity, cultural, linguistic or religious, but, together, are members of the same local and spiritual communities, following to build a peaceful and civilized society in permanent cooperation.
The used criteria for observation and analysis of the behavior of students and teachers were divided into four categories, giving us relevant pedagogical information:
• Teacher may or not reflect the attitude of the educated emotionally on its components and their role in his business? (Emotional component);
• Ensemble applies knowledge acquired in all areas of discipline? (Cognitive component);
• Teaching of the teacher is significant in terms of objective: it highlights their social and professional skills? (Behavioral component)
• The values promoted by subject are included in the system of values of the teacher and children? (Axiological component).
Thus, we observed a high intake of subject in development of children and teachers personality; a great utility of Student Textbook and of audiovisual materials, proposed by the authors, but also the diversity of interactive learning and assessment tasks, the students were engaged, they learned many new and useful things about otherness as neighbor. We also mentioned the integrative potential of course, many challenges and openings, its cultural awareness and expression, intercultural communication and cooperative problem solving in everyday life,  generated by the diversity that surrounds us.
Among the issues raised by teachers, and by students were some texts from the notebook are too difficult for the reading and understanding of the students' age, are many difficult words/concepts and realities / phenomena hard perceived by children. Also, the fact that the optional lessons according to the latest official decisions are made in just the last lessons, generate difficulties for children, but also for transmission and reception of effective educational messages.
During the monitoring, the teachers completed a complex questionnaire, the results of which we will publish in a separate study. And, as a final activity, we announce the training program for trainers in the field of adult education methodology issues and conflicts of values, which will be held on December 19 to 20 this year, facilitated by dr.în psychology Ms Irina Brunova-Kalisetska from Kiev.
Viorica Goraş-Postică, Project Coordinator