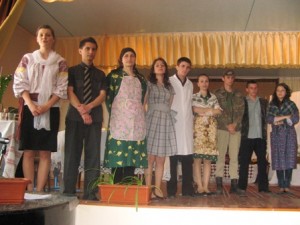 On May 16th, representatives of the three teams involved in the International Project "Teacher Leadership" – TL Petrunea, Glodeni; TL "Liviu Damian", Rişcani, and the hosts, met again to exchange experience and knowledge of theoretical and practical aspects with teachers from Mereni.
Contacts with a pedagogical impact were established, and current issues, focused on developing multiple intelligences in different disciplines were discussed.
Professional challenges were made by the teachers and managers: Lidia Creţu, Larisa Caragi, Tatiana Bujac, Olga Bogaci and Irina Popan. Professional development projects have enriched the pedagogical arsenal of teachers and opened up new horizons for the child-friendly school. We admired their work during past years, the talented and hardworking children we've seen, and the organizational ability of a leading institution.
Viorica Goraş-Postică, Rima Bezede