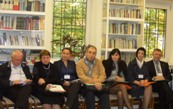 Within the project "Advancing Quality in ICT Vocational Education in Moldova",during 15-17th October was organized a training for modular curriculum developers.
In order to modernize the curriculum for ICT specialties and ensure its relevance to the needs of the labor market, the institutions involved in the project have started the development of modular curricula. A first step in achieving this goal was the training for the 18 potential curricula developers, selected on a competitive basis.
The training activity has been facilitated by the curriculum development experts who have presented the general requirements of modular curriculum development, educational policy issues across the curriculum modular development, national and international experience, recommendations and conceptual taxonomy to develop modular curriculum.
The workshops have been focused on two dimensions: vocational school and colleges. Participants had the opportunity to design future modular curricula, so the first step was determined modules and structure for three curricula (two for colleges and one for vocational schools). Workshop activities were facilitated by Nina Bernaz, Anatol Gremalschi, Viorica Postică and Grigore Vasilache. Thus, by the end of the year, the trainees curriculum developers will develop proposed modules, ensuring maximum correlation with market labor requirements.
The project "Advancing Quality In ICT Vocational Education In Moldova " is implemented by the Educational Center PRO DIDACTICA, in partnership with the National Association of Private ICT Companies, funded by the Austrian Development Agency (ADA), of Austrian Development Cooperation funds.
Project coordinator: Octombrina Moraru