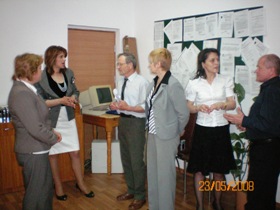 As a result of the study visit in Romania – a visit done within the "For a better governance and resposibility in school" project – all 21members of the administrative teams from the participative schools achieved rich experiences.
They were impressed by the high level of professional competences shown by the managerial teams from the visited schools, by the way of organizing creative and relaxing environment within institutions, by the level of endowment with modern equipments, by the exterior and interior look of the institutions, by the warm and affectionate welcome of the Romanian colleagues.
The hosts generously confessed about the successes and the recorded problems within the educational activity, they prepared and presented positive practices of good management and resposibility in school. The most interesting and useful aspects noticed by the Moldovian teachers were:
the Pupil and Youth Council activity;
the exchange of experience within the Administration Council activity;
the management of financial resources in the school institutions by the Administration Council;
the elaboration of School Plan Development;
the forms of administration of managerial teams;
the synthetic reports of the institution activity at the end of the study year;
the training, organizing and deployment of professional activities among pupils;
the development of extracurricular activities;
means of solving problems by school and community;
productive partnership exemples with APL;
clear reflection of the national and zonal distinction within the educational activity of the institution etc;
During the 4 visits, the managers participated at professional discussions with their colleagues from Romania, in particular about the pecularities of the educational management in the Republic of Moldova and in Romania. The teachers had the opportunity to admire the landscapes of the Olt Valley and to visit many historical monuments from the adjacent areas, including Sîghişoara town with its impressive historical heritage; the Văratic monastery, the Bicaz Canyon, the "Ion Creangă" Memorial House from Humuleşti.
Managers from Moldovian and Romanian schools launched the initiative to create and to maintain viable and solid scholar partnerships between institutions from the both Prut river's shores in order to fructify the most efficient means of good governance.
Rima Bezede,
Group coordinator