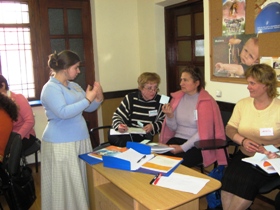 During the Easter holidays, a new event, that took place at the PRO DIDACTICA Educational Centre, brought to a meeting the main specialists from the Regional Ministry of Education which are responsible for the education sector.
Thus, on April 30th , within the workshops, a range of practical recommendations on how to use the additional issue "READING, I LEARN TO BE" (CITIND, ÎNVĂŢ SĂ FIU) was structured. The working was designed to facilitate the work of the formmaster, the school psychologist and all the teachers who have in their didactic approach subject matters of spiritual nature. In the same context, works have been conducted constructively on concrete models in order to adjust the content of the working to the activities presented in the operational guide "I LEARN TO BE " (ÎNVĂŢ SĂ FIU), a didactic support which was previously distributed by PDEC (PRO DIDACTICA EDUCATIONAL CENTRE) to every school from the republic.
The participants at the seminar appreciated the working as a valuable daily orientation guide, pointing out its original, necessary, functional and useful dimensions.
Violeta Dumitraşcu,
Project Coordinator