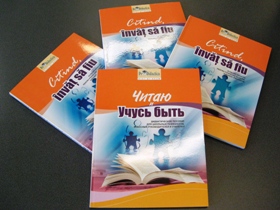 Recently, the didactic book series HERE AND NOW was completed with the additional issue ЧИТАЮ И УЧУСЬ БЫТЬ, elaborated within the FUTURE FOR OUR CHILDREN project.
The first book beneficiaries were formmassters from the ATU Gagauzia (Autonomous Territorial Unit Gagauzia) and Taraclia region. The additional issue was offered to them as a donation, given the fact of their involvement within the Scholarship Program and active participation at achieving project's different objectives.
It should be mentioned that, the didactic additional issue "READING, I LEARN TO BE" (CITIND, ÎNVĂŢ SĂ FIU) and its Russian version ЧИТАЮ И УЧУСЬ БЫТЬ, will be distributed untill the beginning of the next studying year 2008-2009 in every scholar institution from the republic.
This book has the aim to facilitate the daily formmaster's work. Having as a model the operational guide-book I LEARN TO BE, it represents a performative working tool with children.
Within the distribution process of the book there are involved main specialists from the Raional Educational Directorates, responsible for education section. They participated at the Practical recommendations for formmasters regarding the use of  the CITIND, ÎNVĂŢ SĂ FIU (READING, I LEARN TO BE didactic additional issue) workshops. Within the workshops the emphasis was directed on the adaptation of the work's content to the structured activities from the operational guide ÎNVĂŢ SĂ FIU (I LEARN TO BE), a guide-book, being present already for the second year in every school from the republic.
Violeta Dumitraşcu,
Project coordinator