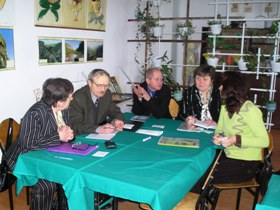 During May 19-24, a group of 22 professors, including the managerial staff from seven liceums from Moldova, are making a study visit in Romania.The activity is part of the "For a better management and responsibility in school" project, developed in partnership with Educatia Centre 2000+ from Bucharest.
Within the programme, meetings with teachers and pupils from National College "Mihai Viteazul" from Bucharest, the "Dr. Aurel Vlad" School with I-VIII forms from Orăştie, Hunedoara district, "Geo Bogza" School with I-VIII forms from Bălan, Harghita district and "Ion Creangă" Technical College from Târgu Neamţ are included. The teachers will also have the opportunity to visit many historical monuments from the adjacent areas. The event is at the final stage of an extensive project, with relevant objectives regarding the optimization of managerial competences of good governance and participatory management in school institutions.
Next week, on May 26-30, the answer visit of the didactic and managerial staff from the 7 Romanian schools included in the project will be made. They will have an experience exchange with the pupils and the teacher teams from the theoretical liceums "A. Russo" from Orhei, "Mihai Eminescu" from Comrat and Varniţa Liceum from Anenii Noi.
Viorica Goraş-Postică,
Coordinator