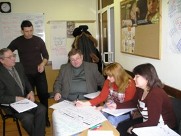 The Educational Center PRO DIDACTICA participates, as a partner, to the implementation of the project "Consolidating the system of professional technical education from the Republic of Moldova"/ Strengthening Vocational Training in Moldova, organized with the financial support of the "Liechtenstein Development Service Foundation (LED).
In January, 2008, the Center has initiated the implementation of this major project, starting with the component "Organizational Development". The scope of this component relates to the professional development of schools that are included in this project, through offering a professional support to the scholar managerial team. Also, monitoring and assistance in creating a functional development plan of the institution, providing consultancy and expertise in this domain are ensured. After implementing this component, each school that is involved in this project will have a sound development strategy.
Up to now, the necessities of staff training and organizational capacities of the institutions within the project have been evaluated: Professional School from Floresti, Professional School Nr. 1 from Cupcini, Professional School Nr.17 from Glodeni, Professional School Mărculeşti. According to these evaluations, a complex training program for managerial teams of the professional schools was elaborated.
The first training activity, named "Educational Management" took place between February, the 20th 2008 and February, the 23rd 2008. The task of the training seminar was to create a more efficient managerial activity of administrative teams of the 4 above mentioned Professional Schools which are participating at the project. The following subjects within this program are the following: change management, general management versus educational management, participative management, self efficiency etc.
The Center founders who have a great experience in the field of educational management: Valentina CHICU, Gheorghe GÎRNEŢ, Iurie MELINTE, Adela SCUTARU, Victor SÎNCHETRU and Gheorghe ŞALARU have elaborated the necessary materials and monitored the training activity.
According to the activity agenda, between March and April, 2008, two training activities will be organized and in order to elaborate a functional development scheme for all the involved schools.
Rima Bezede,
Project Coordinator