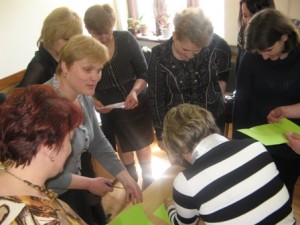 On the1st of April, at the Educational Centre  PRO DIDACTICA  representatives of 2 schools (Lyceum "Emil Nicula"  Mereni, Anenii Noi and Lyceum Petrunea, Glodeni) participated at a workshop within a unique international project, initiated and coordinated by the University of CambridgeDuring the training workshop they reviewed research projects, in the final phase, which have different subjects and are oriented towards solving prior problems in the education, making up the presentation summary of the theoretical and practical tools applied and used in research.
A complex portfolio prepared by each participant, and composed by a initial reflective statement and a detailed summary of professional development work and project impact – were the most important ideas discussed in depth, who enjoyed the attention and interest of the involved teachers.
We learned out how to be leaders recognized at class and school level, among students and teachers, how to share good practices for improving the organizational culture of the school, and to strengthen the professional status and image of the school teacher here and now.
Viorica GORAŞ-POSTICĂ
Rima BEZEDE