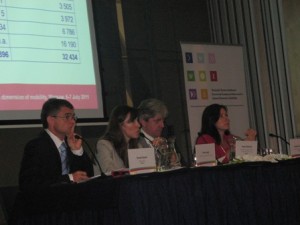 On 6-7 July, in  Warsaw was held a conference entitled Eastern dimension of mobility. It was organized by the European Commission and Poland, which currently holds the Presidency of the Council of Europe, and is one of the EU Eastern Partnership Initiative.
Moldova participated at the conference with representatives from various institutions and organizations. Educational Center PRO DIDACTICA was represented by Lilia Nahaba, coordinator of educational projects.
The event represented a real opportunity for the exchange of experiences and views on mobility tools. The results of the conference will serve as a basis for preparing high-level meeting of the Eastern Partnership, which will take place in Warsaw from September 29 to 30.
Lilia NAHABA,
Project coordinator