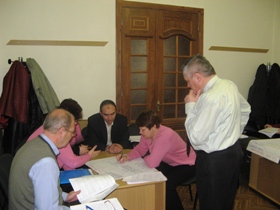 During April the 10th -12th of 2008, within the CONSEPT project, the second module of the instructive program "The elaboration of the Development Plan of the School" took place.
The administrative teams from the 4 pilot-professional schools have presented their sketches regarding the Development Plans of the School.
As a result, each team drove advantages from their colleagues and expert-facilitators suggestions and recommendations for the improvement of the elaborated plans.
During May-August 2008 these strategic documents will be improved and finished. For the successful accomplishment of this task, the teams will be assisted and supported by the Centre facilitators.
Rima Bezede,
Project Coordinator