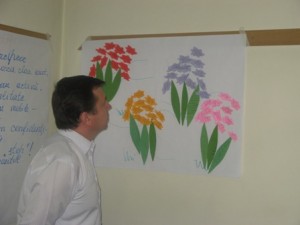 During periods March 21 to 23 and March 28 to 30 at Educational Center PRO DIDACTICA has been implemented a training program for teachers who work with children from socially-  vulnerable families. This activity is organized within projectSchool Communities in Action: Creating conditions for children from socially vulnerable families to stay in school. The program was attended by two representatives from each school involved in the project: the deputy director for education and a teacher.
The objectives are to provide training programs for teachers, to develop their professional skills in order to increase pupils motivation for staying in school, and for their personal development.
The activity is facilitated by a team of expert trainers-psychologists with extensive experience in the field. After the training participants will conduct similar activities for teachers from their institutions.
Lilia NAHABA,
Project coordinator