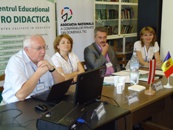 On 3rd July, 2013, within Educational Center PRO DIDACTICA held a roundtable of presentation the sociological survey conducted within the project "Advancing quality in ICT vocational education in Moldova", coordinated by host organization, in partnership with the Moldovan Association of Private ICT Companies (ATIC) and financially supported by the Austrian Development Agency (ADA), from Austrian Development Cooperation funds, represented at the event by Mrs. Tatiana Zbanca, Programme Officer, Coordination Office for Technical Cooperation / Austrian Embassy Chisinau.
With the object of modernize the curriculum for ICT specialist from institutions benefiting in the project and ensure its relevance to the needs of the labor market, in March-May held a comprehensive Needs Assessment, which were used quantitative and quality sociological methods. In the study, were investigated educational and social actors opinions: students, teachers, managers / representatives of ICT companies, managers of higher education institutions that prepare ICT specialists. We applied 250 questionnaires among students of II and III studies, 25 questionnaires with teachers and 22 – with representatives of ICT companies also insitutii opinion was surveyed higher education and interviews conducted four focus groups.
Thus, in comprehensive report on sociological research, Ms. Diana Cheianu presented critical findings listed a number of problems detected, one of the biggest problems of the current system is the lack of clear separation between ICT specialists trained at various levels of the education system and the mismatch between supply and demand for ICT specialists in the labor market. Expert Anatol Gremalschi highlighted expectations the private sector's from ICT vocational graduates with reference to their skills acquired during their studies in colleges and professional schools. Ms. Viorica Goraş-Postică spoke about the current state of curricula and specialties disciplinary curricula ICT vocational-technical education in terms of structure and content pedagogical ICT. Were presented models of vocational-technical education system in ICT from England, Romania and Estonia by international expert John O'Sullivan, insisted on distinguishing between the different educational levels of the education system in Europe.
A special support for improving the quality of vocational-technical education in the field of Information and Communication Technology is registered by the Ministry of Education, showing open modular curricula development. Dialogue and the presence of private companies in this event was an additional argument on the need for harmonization of ICT education in Moldova with labor market requirements, defining aspect for the project.
Octombrina Moraru
Project Coordinator