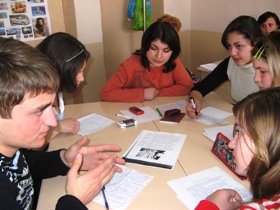 Within the follow-up activities organized on February the 8th, March the 21st and 28th there were presented and discussed the activities results of the cursists at their place of residence.
Most of the teachers, gainers of the scholarship program, involved pupils and teachers of the schools they represent within the site activities, while the parents and the members of the community stayed less receptive towards the problems children left home alone are confronting with…
As a result of the site starting off of the sensibilization and preventing process of the possible risks for this category of children, teachers became definitely aware of the children's drama and respectively the burden they have to bear on their shoulders.
As the teachers relate, an imposing and valuable result for everyone was the guide-book "Învăţ să fiu", which represent an operative and efficient tool for classwork. After systematical usage of the didactic material offered by it, cursists ascertain a substantial improvement of the communication process with and between pupils.
Violeta Dumitraşcu,
Project Coordinator