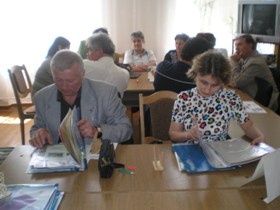 During 26-30 May, within the "For a better governance and resposibility in school" project, the answer visit of the didactic and managerial staff  from Romania took place in the theoretical lyceums "A. Russo" from Orhei, "M. Eminescu"  from Comrat and from Varniţa, Anenii Noi county.
The Romanian teachers represented the following educational institutions: the school No.10  with the I-VIII forms, Suceava place, Suceava county; "Dr. Aurel Vlad" school with the I-VIII forms, Orăştie place, Hunedoara county;  "Geo Bogza" school with the I-VIII forms, Balan place, Harghita county; Vaskertes school with the I-VIII forms, Gheorghieni place, Harghita county; "Mihai Viteazul" National College, Bucharest; the Scholar Group of Telecommunications and Public Works, Hunedoara place, Hunedoara county; "Ion Creangă" Tehnical College, Tirgu Neamţ place, Neamţ county.
The hostess presented the most relevant pupils and teachers' successes, insisting upon the implementation results of the strategic development plans of the school, of the partnership programs with different community actors and of the extracurricular activities.
The Romanian colleagues appreciated the study visit as a very useful one for the professional development, pointing out the hostess' warmth, friendship and consideration; the beautiful, talented children, eager to learn the literary Romanian language; the arrangement of institutions interiors, of the halls and not the last, the picturesque areas where the schools are located.
The modest material and cultural conditions in which our school over-requested activity takes place, in some cases, the didactic personnel which showed interest in establishing solid partnerships with schools over the Prut river.
Viorica Goraş-Postică,
Project coordinator