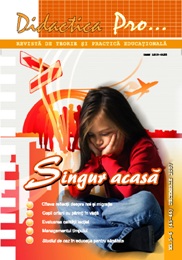 The current issue of the magazine is dedicated to the problem of children remained under care of grandparents, of elder brothers, of relatives etc. as a result of parents going away to work abroad. In the QUO VADIS rubric is presented a survey Some reflections about us and migration, where advantages and disadvantages of this phenomenon for the society from Republic of Moldova are presented. The rubric contains some articles which approach the consequences of the migration upon the family, in general, and upon the child, in special.
The authors assert that the families' disintegration, the lack of parents' supervision, the perturbed communication between parents and children etc. have a sad reflection on physical and psychical development of the children.
The rubric A FUTURE FOR EACH CHILD continues to present the pilot-schools in the project "A Future for Our Children" – Theoretical Lyceum from Mingir village, Hînceşti rayon; Theoretical Lyceum from Ochiul Alb village, Drochia rayon and Theoretical Lyceum from Albineţul Vechi, Făleşti rayon.
The EARLY EDUCATION, a rubric for educators and teachers presents an advising hour for 3rd form "A Harmonious Family – A Wholesome Society". Other two themes approached in the current issue are: the lullaby's importance for babies; the school handbooks' publishing and providing policy for preschool and primary level.
This issue encompasses a new rubric INCLUDING ME, placed in partnership with "Speranţa" Center. The inclusion of the children with disabilities and inclusion praxis promoted in the Republic of Moldova are the main ideas of these articles.
The articles from EX CATHEDRA rubric elucidate the following aspects: assessment of Romanian language classes through docimological tests; assessment of the lesson's quality; building vocabulary of the economist students; scientific knowledge within Physics, Chemistry, Biology classes; direct and indirect vocabulary learning etc.
In PEDAGOGICAL VALUES rubric you may read about 110 years of the school from Baraboi and educational reforms promoted by D. Gusti.
The DOCENDO DISCIMUS rubric elucidates what is the importance of motivation in an institution and how to organize our time in order to have an efficient activity.
In the DEVELOPING CRITICAL THINKING rubric you may read about the Case Study and the Project – techniques used during the History, Mathematics, and Education for Health classes. Sorin Cristea, who signs traditionally the DICTIONARY rubric, elucidates the theme of children's rights from a historical and political perspective.