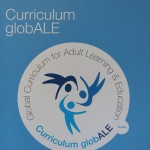 On 7-8 of November current year, I, with Adela Scutaru-Guţu, director at DVV International Moldova, have attended a workshop with a Curriculum GlobALE theme, the frame for improvement the quality of life and poverty reduction by developing adult education and lifelong learning. The activity was organized by DVV International Macedonia, in Skopje, and there were gathered representatives from more than 10 countries: Belarus, Kosovo, Croatia, Germany, Macedonia, Mexico, Moldova, Palestine, Tajikistan, Ukraine and Uzbekistan.
The workshop discussed in detail the structure and content of the regulatory document at an international level, named Curriculum GlobALE, and also multiple case studies from countries were adult education is considerably improving thanks to the support offered by DVV International, which promotes education as a fundamental human right and a perspective for development. The international projects implemented in over 35 countries on four continents for almost 50 years, create opportunities for personal and professional development for disadvantaged adults, through general and vocational training.
The discussions from the workshop reiterated the importance of the Curriculum GlobALE, as core cross-cultural document (www.curriculum-globale.de) , which aims to optimize the professionalization of trainers for adults in different contexts, by promoting standards of competences, by supporting the organizations involved in programs for training of trainers, at a level of design and implementation, but also by facilitating expereince exchange  in the field between different countries and regions.
We appreciate the quality of CE PRO DIDACTICA partnership with DVV International Moldova, by mutual  contribution to the training and certification of trainers in the field of nonformal education for adults, but also by elaborating didactic support tools for them, which, we hope, to have a new incentive in the process of finding out and efficient practicing of andragogic principles and values.
Viorica Goraş-Postică,
vice-president CE PRO DIDACTICA