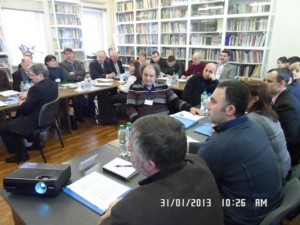 Since December 2012, the Republic of Moldova is implementing the project "Advancing quality in ICT  vocational education in Moldova", coordinated by the Educational Center PRO DIDACTICA, in partnership with the National Association of Private ICT Companies.
The Moldovan-Austrian initiative is financially supported by the Austrian Development Agency (ADA), of Austrian Development Cooperation funds.
On January 31, within the Educational Center PRO DIDACTICA was roundtable to launch the project "Advancing quality in ICT  vocational education in Moldova". This event kicked off the project activities that will contribute to the harmonization of ICT education in Moldova with labor market requirements in order to increase the relevance of education for future professional employment.
Austrian Development Agency, represented at the event by Mr. Gerhard Schaumberger, Head of Technical Cooperation Office in Chisinau Austria, said full support and keen interest to this project. As a major impact of activities to be implemented are expected to increase the quality of knowledge and practical skills of young graduates from ICT specialist vocational-technical institutions in Moldova.
Participants in the roundtable included project partners: representatives of the Ministry of Education, Ministry of Information and Communication Technology, Technical University of Moldova and of private companies in the field, as well as teams from the five pilot schools: the Chisinau College of Informatics, the Balti College Polytechnic, the Cahul College Industrial Educational, Vocational School No. 5 from Balţi  and Vocational School No. 6. from Chisinau.
Presentations made in plenary,  by every institution, highlighted the organizational potential  and advanced teaching is to be used, and difficulties faced by vocational technical education institutions, including obsolete equipment, software inconsistency with what is required now ICT labor market.
In the workshops organized were discussed relevant topics project scope, including ICT curriculum implemented in colleges and vocational schools, necessities related to the training of teachers and coherence between different levels of education (secondary vocational, professional and higher) train ICT specialists.