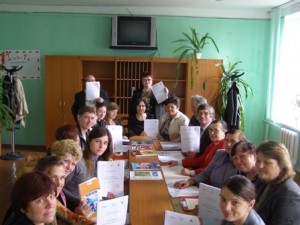 From February 4 to June 4 2011, Educational Center PRO DIDACTICA implemented a training program for lyceum teachers from rural areas. This program took place within the project Quality Education in Rural Areas in Moldova, supported by the World Bank and coordinated by the Ministry of Education. The aim of this activity was to develop and update the teacher's methodological skills.
The 24 hours training program includes seven subjects. In February it was provided a methodological training for 24 national trainers. They, in turn, facilitated the training of785 local trainers: two delegated teachers from each lyceum. During period March-May local trainers facilitated the activities in the site in their institutions.  7474 teacher were involved in the site programs and received certificates confirming this.
Training activities under subcomponent Training methodology for lyceum teachers were conducted in accordance with the E.C. PRO DIDACTICA schedules and standards and terms of reference formulated by the Ministry of Education. The main objective of the project was achieved by providing a qualitative training program. The beneficiaries of this program were 8259 rural teachers.
We believe that the logic of the planned activities under this subcomponent and effective partnership between all stakeholders – Ministry of Education, E.C. PRO DIDACTICA, Rayonal Departments of Education, Youth and Sport, the rural lyceums – contributed to the successful implementation of this activity.
Rima BEZEDE, Project manager
Silvia BARBAROV, Project coordinator