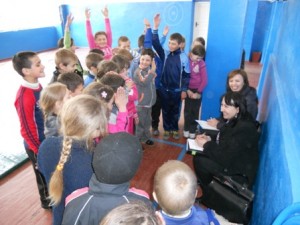 From April 14 to May 25, 2011, a number of 30 monitoring visits were conducted in 30 institutions, involved in the project School Communities in Action: creating the conditions for persistence in school pupils in socially vulnerable families. Trainers and the project managerial team from EC Pro Didactica has been in several of them accompanied by Yoon Durbin, representative of the Open Society Institute in Budapest and international consultant of the project.
Aiming at assessing the quality of project activities, monitoring was based on tools developed both for trainers and for the implementation team.
In most of schools, the implementation of projects is successful. During monitoring visits we had the opportunity to discuss with the direct beneficiaries – children, who are motivated and happy to participate in extracurricular activities.
In 50 schools involved in the project are carried out 133 extracurricular activities. Some institutions are supported by local authorities, parents, local businesses, who contributed to renovate the rooms for project activities, to provide the supporting material, to pay the transportation costs, Internet costs, etc.
Lilia NAHABA,
project coordinator