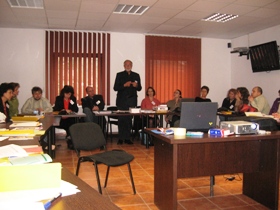 On April the 9th – 11th 2008, an opening seminar of the project in question took place in Sinaia, being organized by the Educaţia 2000+ Centre from Bucharest and having as participants the Romania, Bulgaria and Republic of Moldova deputations. The financial support was offered by Soros Foundation. In the posture of expert-facilitators were 3 representatives of the European Institute of PRODUCTIVE LEARNING from Berlin: Jens SCHNEIDER, Ute OHME and Michael KASELAU.  Between the ten participants from Moldova there were school and university professors, psychologists, researchers and curriculum makers.
The project gainers of the project will be children with school failures, those from the "risk group" (with one or both parents left abroad, those from residential institutions, children with disabilities, children that abandon the school). The educational system from Moldova needs to implement alternative methods of education which will be appropriate for each child, no matter of his/her interests, abilities, social status.
More about the productive learning you can read in the next issue of the Didactica Pro…  magazine which will be available from  April-May month of this year.
Viorica Goraş-Postică,
Group coordinator