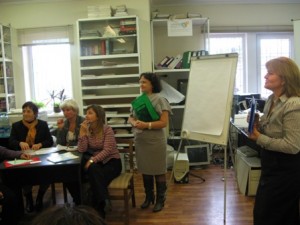 From 10 to 14 of  October, the Educational Center PRO DIDACTICA is implementing the first part of a training program for teachers from Gagauzia, which teach Romanian in primary school. The activity involved 46 teachers from around 40 schools, which are trained by a team of 10 trainers. The program includes five days of training perfortmed in an interactive form.
Participants receive a course support, which contain diverse topics that comes to improve / upgrade their methodology skills: development of reading and writing skills, specific activities for form I (methods, techniques, games), efficient methods of vocabulary development, working with text, requirements to the questions etc.
Besides  the actual training activities, the training program includes also assisting to the Romanian language classes in schools. The hosts of these activities were teachers Nina Butucel, LT "M. Basarab" and Tamara Moisei, High Technology Lyceum "B. Hertli" from Chisinau.
After a period of application of the learned subjects in the classroom, teachers will meet on November 25 in the follow-up activities, to share experience and exchange the best practices.
The training program is a part of the project "Improving State Language Teaching in Gagauzia" which is supported by the High Commissioner on National Minorities of the OSCE and the Federal Office for Foreign Affairs of Germany.